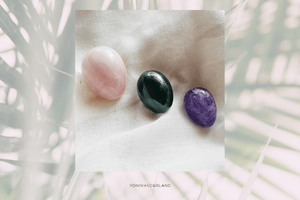 YONI EGG TRIO
Regular price
Sale price
$125.00
This TRIO allows you to master all 3 sizes and different weights. It is recommended to start with the larger and work your way down to a smaller size. The larger the size of the egg, the easier it is to feel and hold. Once you have mastered each size, you can always turn to these crystals for healing practices and work with the crystal vibration from each yoni egg. Don't get discouraged from using a larger size if you have already worked your way down to a smallest, and vice-versa. 
LARGE: Although the largest in dimension, Rose Quartz is lightweight and a great size to start your practice as its size and weight makes it easier to feel and hold inside your yoni, allowing you to establish physical and cognitive control of your vaginal movements. ROSIE helps attract love & romance into your life, releases worry, heals all aspects of the heart and facilitates forgiveness. Amplifies self-love and self-care and helps you connect with the feminine energy.
MEDIUM: Once you have mastered the large yoni egg, you will probably be comfortable to leave your house wearing your medium yoni egg inside your Yoni. Nephrite Jade is considered one of the most durable stone for this practice as it is dense and unlike the quartz, does not break as easy and does not crack if placed under boiling water. This is especially beneficial if your egg happens to slip out. JADE has the ability to stimulate the Kidneys, which connects and boots our sexual Chi and empowers orgasmic energies. A great stone to soothe the nervous system, bringing stability and well-being into your life. 
SMALL: Small yoni eggs help build vaginal coordination so doing this practice with a lightweight stone like Amethyst, helps increase this ability and therefore, enhance control, agility, and muscle awareness. Until you have mastered the larger sizes, it may take a while until you are able to hold this yoni egg inside your yoni without it slipping out. This crystal in specific is great for meditation practices since you may experience the benefits of this stone while sitting or lying down. LILA is a natural tranquilizer; blocks stress & promotes restful sleep. It is beneficial for the mind & centers emotions.
Drilled option available: allows you to thread a cord through the egg in order to pull and remove just as you would with a tampon.
Care Instructions
We recommend sterilizing your intimate gem prior and after each use with a mild soap. Should you desire a deeper sterilization, apply 1-2 drops of lavender or tea tree essential oil or apple cider vinegar into a bowl with water and let your intimate gem sit for a few minutes. Rinse clean with fresh water, pat dry with a clean towel and store it in a secure place. Your intimate gem can be kept in a lingerie drawer, bedside table, treasure box or altar. Hand wash only!
Features
Available sizes: Large, Medium, Small
Drilled and Non-Drilled options available
Made out of 100% natural GIA certified gemstones
Free of dyes and chemicals
Digital Instructions Manual included with purchase
Weight & Measurements:
Large: 2.5" L / Circumference: 4.75" (widest end) / 0.20 lbs
Medium: 2" L / Circumference: 3.75" (widest end) / 0.11 lbs
Small: 1.75" L / Circumference: 3" (widest end) / 0.05 lbs