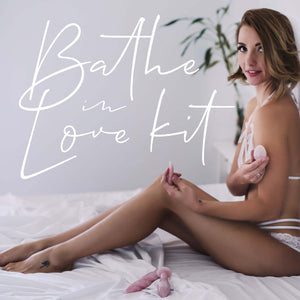 BATHE IN LOVE KIT
Regular price
$248.00
Sale price
$199.00
The pieces in this kit have been hand-picked to take you on a magical journey of pure love and transformation.
Known as the Talisman of Love, Rose Quartz balances the heart chakra and amplifies self-love and self-care. Fills the womb with the vibration of love and fortifies the heart and sexual organs. It keeps love and romance always present in your life, while releasing worry and facilitating forgiveness. 
This is a great started kit in order for you to get familiar with using intimate crystals for sensual healing and overall well-being. 
Allow yourself to "Bathe-in-Love" and surrender to the loving and tender vibrations of Rose Quartz.
WAVE TOUCH CLITORIS MASSAGER:
Its Curved design matches the one of your index finger. Its delicate touch is perfect to massage the external parts of your body - and Yoni, gently or firmly. 
YONI EGG: 
Simply defined as 'vaginal crystal weights' - Yoni Eggs are used by women inside their Yoni to support pelvic floor strength and vitality. For best results, use the egg daily for 5-10 minutes. Drill or Non-Drill options available.
TWIST YONI WAND:  
This wand is great to start exploring inside your yoni as a way to release tension and discover pleasure zones inside your vaginal canal. This technique is called Yoni Mapping. Use the pointed end to perform deep tissue massage (de-armor) inside your yoni and other parts of your body. A playful wand that can also be used horizontally to stimulate the external areas of the yoni, or for erotic play to sensually massage other body parts (your own or your partner's).
BUMBUM BUTT PLUG:  
Designed to stay in for the duration of its use, the tapered tip allows an easy and gently insertion and progressively widens into a bulging body for intense pleasurable feelings. It narrows into a slim neck allowing the muscles to close around it so that it can be retained inside the body while its flared base makes it completely safe for BumBum Play! 
Features
Made out of 100% natural GIA certified Rose Quartz

Free of dyes and chemicals

Kit Includes:

1 Rose Quartz Wave Touch Massager
1 Rose Quartz Medium Yoni Egg
1 Rose Quartz Slim Twist Wand 
1 Rose Quartz BumBum Plug
Storage Box and Pouch
E-Book with Instructions 
Care Instructions
We recommend sterilizing your intimate gem prior and after each use with a mild soap. Should you desire a deeper sterilization, apply 1-2 drops of lavender or tea tree essential oil or apple cider vinegar into a bowl with water and let your intimate gem sit for a few minutes. Rinse clean with fresh water, pat dry with a clean towel and store it in a secure place. Your intimate gem can be kept in a lingerie drawer, bedside table, treasure box or altar. Hand wash only! 
Rose Quartz
The Talisman of Love
Balances the heart chakra
Helps attract love and romance into your life
Helps heal all aspects of the heart
Stabilizing stone for heart trauma and imbalance
Stimulates blood circulation in the tissues
Fortifies the heart and sexual organs
Encourages fertility
Helps during a cancer related healing process
Releases unexpressed emotions and heartaches
Fills the womb with the vibration of love
Helps you learn to love again
Amplifies self-love and care
Releases worry, fear and emotional trauma
Facilitates forgiveness and compassion
User Guides
E-Book Instructions Manual included with KIT purchase